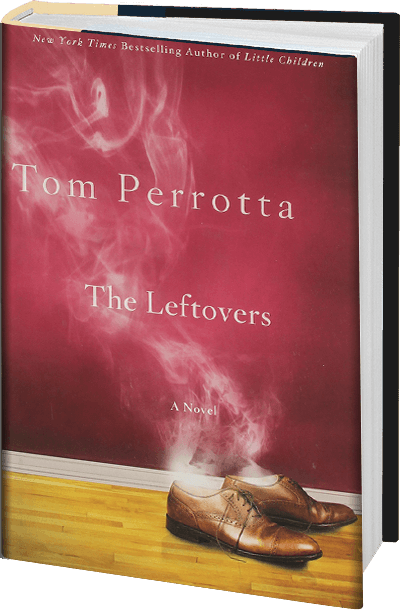 Order
A 2011 New York Times Notable Book
Named one of the Best Books of 2011 by O the Oprah Magazine, Kirkus Reviews, Amazon.com, GQ, NPR ("Fresh Air"), The Washington Post, The Seattle Times, The San Francisco Chronicle, The Miami Herald, and BookPage.
HBO series debut in 2014
"Perrotta has delivered a troubling disquisition on how ordinary people react to extraordinary and inexplicable events, the power of family to hurt and to heal, and the unobtrusive ease with which faith can slide into fanaticism." — Stephen King
What if the Rapture happened and you got left behind? Or what if it wasn't the Rapture at all, but something murkier, a burst of mysterious, apparently random disappearances that shattered the world in a single moment, dividing history into Before and After, leaving no one unscathed? How would you rebuild your life in the wake of such a devastating event?
This is the question confronting the bewildered citizens of Mapleton, a formerly comfortable suburban community that lost over a hundred people in the Sudden Departure. Kevin Garvey, the new mayor, wants to speed up the healing process, to bring a sense of renewed hope and purpose to his traumatized neighbors, even as his own family falls apart. His wife, Laurie, has left him to enlist in the Guilty Remnant, a homegrown cult whose members take a vow of silence but haunt the streets of town as "living reminders" of God's judgment. His son, Tom, is gone, too, dropping out of college to follow a sketchy prophet by the name of Holy Wayne. Only his teenaged daughter, Jill, remains, and she's definitely not the sweet A student she used to be.
Through the prism of a single family, Perrotta illuminates a familiar America made strange by grief and apocalyptic anxiety. The Leftovers is a powerful and deeply moving book about people struggling to hold onto a belief in their own futures.
Select Reviews
"[Perrotta's] most ambitious book to date….The premise is as simple as it is startling (certainly for the characters involved). The novel is filled with those who have changed their lives radically or discovered something crucial about themselves, as radical upheaval generates a variety of coping mechanisms. Though the tone is more comic than tragic, it is mainly empathic, never drawing a distinction between "good" and "bad" characters, but recognizing all as merely human—ordinary people dealing with an extraordinary situation." — Kirkus Reviews (starred)
"Perrotta has delivered a troubling disquisition on how ordinary people react to extraordinary and inexplicable events, the power of family to hurt and to heal, and the unobtrusive ease with which faith can slide into fanaticism. The Leftovers is, simply put, the best 'Twilight Zone' episode you never saw—not 'The Monsters Are Due on Maple Street' but 'The Monsters Are Us in Mapleton.' That they are quiet monsters only makes them more eerie. . . the slow, sad drift of this suburban world into various forms of cultic extremism as a response to upheaval feels spot on. Perrotta suggests that in times of real trouble, extremism trumps logic and dialogue becomes meaningless. Read as a metaphor for the social and political splintering of American society after 9/11, it's a chillingly accurate diagnosis. . .[W]e come to care about [the characters] deeply, and Perrotta is wise enough to know that even in this bedroom community. . .the better angels sometimes prevail. There is Perrotta's beautifully modulated narration to admire, too. His lines have a calm and unshowy clarity that makes the occasional breakout even more striking, as when [a character] smells a freshly unboxed takeout pizza, the aroma 'as full of memories as an old song on the car radio.' Or when a suburban housewife recalls her husband's job-related BlackBerry obsession, his mind 'so absorbed in his work that he was rarely more than half there, a hologram of himself.' Lines like that offer their own form of rapture." — Stephen King for The New York Times Book Review (front page) (Read the full review)
"[A] novel soaked in mourning from its very first pages: a survivor's tale, like a story of 9/11 without any ashes or anyone to blame. . . .[Perrotta's] most mature, absorbing novel, one that confirms his development from a funnyman to a daring chronicler of our most profound anxieties and human desires. . . .Leavened with humor and tinged with creepiness, this insightful novel draws us into some very dark corners of the human psyche. Sad as these people are, their sorrow is absorbing rather than depressing. Though he still hasn't left the suburbs, Perrotta has managed to prove again, as Updike and Cheever did, that here in the quiet, tree-lined streets of a nice neighborhood, people are fighting cosmic battles with their own and others' demons." — Ron Charles for The Washington Post (Read the full review)
Media
Interview on NPR's "Fresh Air"
Interview on NPR's "Weekend Edition"
Audio Edition
ISBN 1427213224
2011, MacMillan Audio (English)
Unabridged Compact Disc
Performed by Dennis Boutsikaris
Listen to an excerpt (MP3), courtesy of the publisher.
Order: Amazon.com | Books-a-Million | Powell's